We've all heard the old adage about chicken soup doubling as medicine — but can it really help alleviate cold symptoms, especially now in the fall and with winter up ahead?
Fox News Digital reached out to experts for their input on whether this age-old comfort food has some healing powers.
While it won't actually cure a cold, chicken noodle soup may help to alleviate some of the symptoms that come along with having a cold or flu, said Kara Collier, a registered dietitian nutritionist and co-founder of Nutrisense in Chicago.
COLD AND FLU SEASON IS COMING: KNOW THE WARNING SIGNS AND SYMPTOMS NOW
"The veggies and seasonings, like garlic and herbs, that go into chicken soup can also provide important minerals, antioxidants and amino acids that help support our body's immune system," she told Fox News Digital. 
"In particular, chicken is an excellent source of the amino acid cysteine, which has been shown to help thin mucus and help you manage cold and flu symptoms."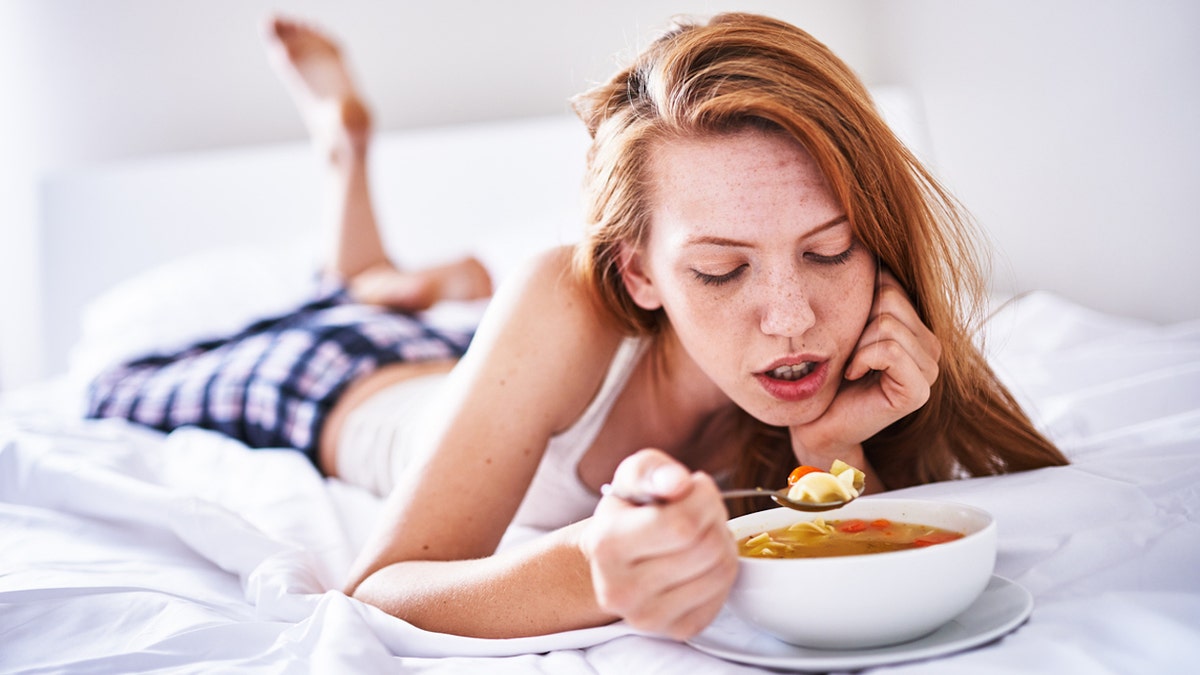 The broth that serves as the base of chicken soup can also provide fluids and electrolytes that help the body fight off infections, Collier noted.
"Your regular hydration strategies may not be appetizing or may not meet your enhanced needs when you're feeling unwell, so having something that is soothing and easy to consume makes a difference," she said.
COLD, FLU, COVID-19 AND RSV: HOW TO IDENTIFY THE DIFFERING SYMPTOMS AND STAY SAFE
"The warm broth itself may also help to open up congested nasal and throat passages, which helps to better manage cold and flu symptoms."
Also, chicken soup is an easy way to get important micronutrients, macronutrients and fluids when you're sick and may not have an appetite for other foods.
"Chicken soup can be an easy and soothing way to get in some protein, carbs and veggies when we're otherwise limited," said Collier.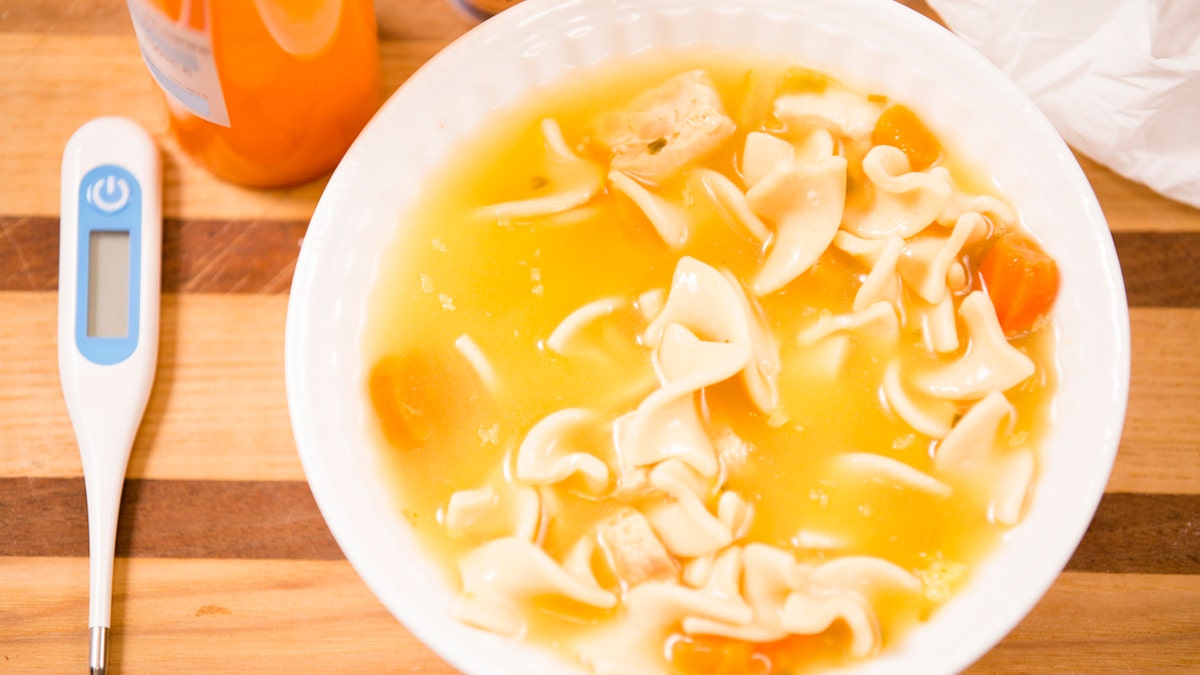 Dr. Andrew Petersen, a physician with Forum Health in Utah, noted that chicken broth is full of proteins and peptides that can provide an energy boost for adequate immune function. 
"A healthy homemade chicken soup typically has some vegetables like carrots, celery and onions," he told Fox News Digital. 
"In a soup, these ingredients are well-cooked and therefore easy to digest, which is important when a person is sick."
SICK WITH A COLD OR FLU? HERE'S HOW TO KNOW IF YOU CAN STILL EXERCISE: 'USE THE NECK CHECK'
Between the amino acids and B vitamins found in the broth and the vitamins and minerals in the veggies, chicken soup is a good choice to help someone recover more quickly from a cold or flu, said Peterson.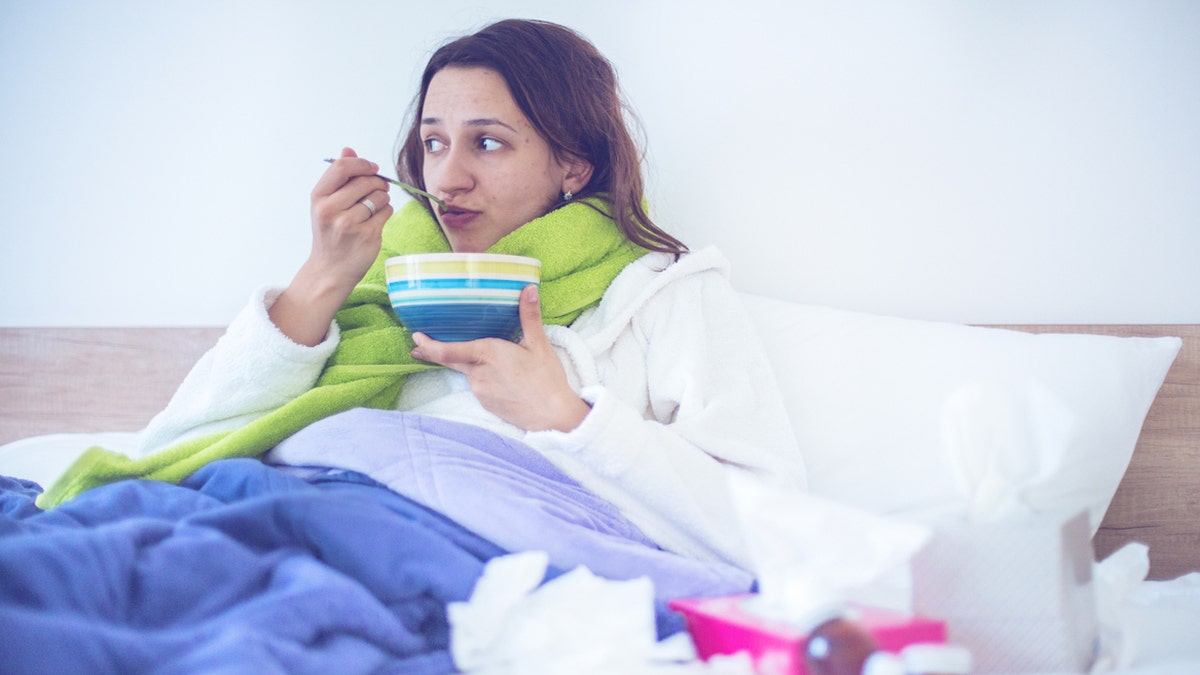 "It is much more likely to be helpful than a simple carbohydrate meal with excess sugars that would exacerbate the inflammation that is caused by the viral illness," he said. 
Other foods that help with colds and flu
Beyond chicken soup, Collier named several other foods that may help to relieve cold and flu symptoms:
Any broths are beneficial due to the fluid and electrolytes — particularly bone broth, which also contains collagen and amino acids that help to support healing.
Citrus fruits contain micronutrients they offer, specifically vitamin C to support immunity.
Other fruits, like bananas and berries, contain fiber, minerals and antioxidants.
Garlic and ginger help to support immune function.
Omega-3 fatty acid sources, such as salmon, help to reduce inflammation.
Fluids like hot teas act as a natural decongestant.
One thing to consider is that glucose levels tend to be higher when someone is feeling unwell, Collier noted.
CLICK HERE TO SIGN UP FOR OUR HEALTH NEWSLETTER
"When we're ill, our body releases a hormone cascade that helps to enhance our immune response," she said. 
"This hormone shift causes us to make more glucose and be slightly less insulin-sensitive. While this is important for fighting infections, it often leads to those higher-than-normal glucose values."
CLICK HERE TO GET THE FOX NEWS APP
In light of that, she recommends being conscious of the amount of carbs and sugary drinks you're consuming when sick. 
"If you can, keep the noodles in your chicken noodle soup balanced by adding in lots of chicken and veggies, and try pairing your fruits with some protein to keep glucose (and energy levels) stable," said Collier.
For more Health articles, visit www.foxnews.com/health.