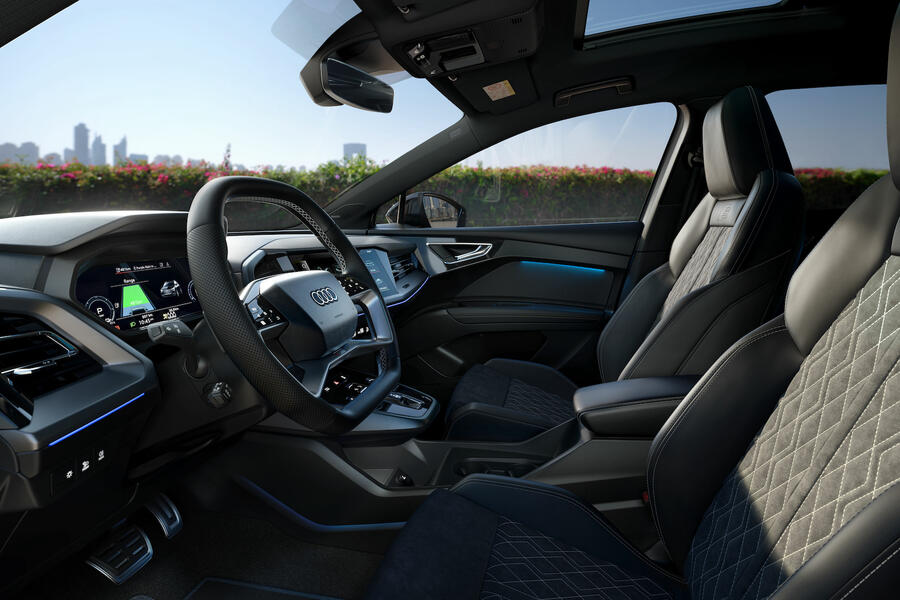 #5 Even more tech
Last – but certainly not least – the updated Audi Q4 e-tron bolsters the model's already impressive roster of infotainment tech: helping you stay connected and entertained, with even more driving assists that takes the stress out of driving and keep you safe.
Inside the updated Audi Q4 e-tron, Audi's MMI navigation plus, Audi connect Navigation & Infotainment and the fully digital 10.25in Audi virtual cockpit instrument panel now come as standard on every model in the line-up, while the optional adaptive cruise assist now enables assisted lane changes for the first time.
The side assist radar sensors track traffic around you, before displaying white arrows in the instrument panel and augmented reality head-up display to indicate when it's safe for you to change lanes. When changing lane, actively assisted steering lends a helping hand, or keeps you in your lane if you're staying on the straight and narrow.
So, with even more range, more amped-up performance, faster charging, more engaging handling and even more tech, it's easy to see how the updated Audi Q4 e-tron is even better.
Learn more about the updated Audi Q4 e-tron
* Timings based on a 10 to 80% charge using an ultra-rapid DC public charge station at the vehicle's maximum charging capability. Ultra-rapid charging stations are still limited in the UK, with numbers planned to increase. Actual charging times will vary depending on various factors, including the selected vehicle (and battery option, if available), the type of charger used, the level of charge in the battery, the age, type, condition and temperature of the charger and the battery, the power supply, the ambient temperature at the point of use and other environmental factors. Charging times will also be affected by the charging curve (for example, once charging passes 80%, charging will slow to protect the battery's longevity) and will be longer if battery temperature activates safeguarding technology.