eLI's Must-Read Guest Articles
We publish our fair share of articles on eLearning Industry every month and now it's time, once again, to give thanks to our guest contributors. We are honored to share their insights, best practices, and insider tips with the eLearning community on a daily basis. In no particular order, here are the top guest articles published last month to help you overcome common Gen Z training obstacles and meet modern employees' expectations.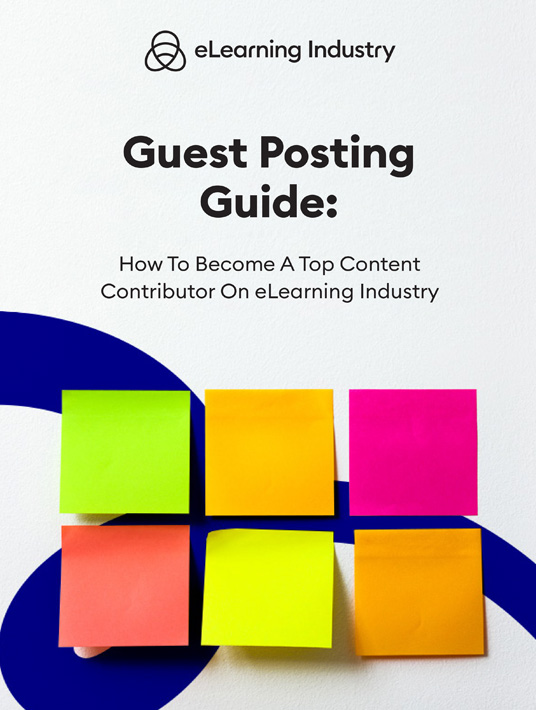 eBook Release
Guest Posting Guide: How To Become A Top Content Contributor On eLearning Industry
Discover what you gain by guest blogging and what are the basics of writing a guest post for eLearning Industry.
5 Standout eLearning Guest Posts
The Role Of Natural Language Processing In eLearning By Sameeksha Medewar
Natural Language Processing (NLP), a Machine Learning technology, is a groundbreaking creation that has the ability to interpret, manipulate, and comprehend human language. Sameeksha Medewar explores how NLP plays a vital role in eLearning.
How To Come Up With A Good Business Name For Your eLearning Startup By Micheal Chukwube
Choosing the right name for your eLearning startup is a critical decision that profoundly impacts your brand's success. This article, penned by Micheal Chukwube, offers valuable insights, emphasizing memorability, relevance, and uniqueness.
Unleashing The Potential Of Generation Z: Harnessing Strengths And Overcoming Challenges By Paige Yousey
Gen Z's entry into the workforce requires organizations to adapt training methods. Paige Yousey highlights why it is essential to start looking at how Gen Z's strengths can be maximized while still addressing Gen Z's weaknesses.
7 KPIs For Instructional Design Teams By Ravinder Tulsiani
This comprehensive guide by Ravinder Tulsiani explores 7 Key Performance Indicators (KPIs) that Instructional Design teams should measure to ensure effective, engaging, and impactful educational programs.
Navigating The Shifting Sands Of Modern Learning: What Employees Want By Aruna K
In today's digital-driven workforce, understanding and adapting to employees' diverse learning styles and priorities is imperative for organizational success. Aruna K provides tips to empower your workforce, offer flexible content, promote lifelong learning, and strike a balance for everyone involved.
Would You Like To Be Featured In Our Next Guest Author Showcase?
Congratulations to all the authors who were in the spotlight this month! We'll be featuring our top eLearning must-read articles every month in our Guest Post Showcase. If you'd like to be considered for our next list, submit your article to build thought leadership and connect with our eLearning community.
You can also subscribe to our Guest Author Newsletter for tips, hot topics, and exclusive promo opportunities.