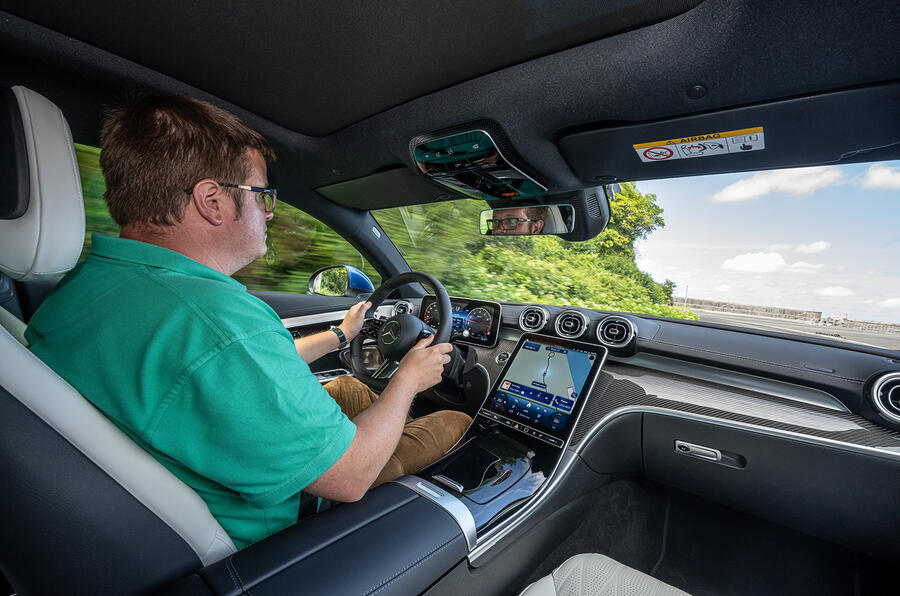 So to the first order of business: is this car more pumped-up C-Class or slimmed-down E-Class in its presence, layout and general character? At the kerb, you might expect the former, because of its sheer size.
But on the inside, the CLE's fascia is obviously C-Class-derived. You may have already clocked the quartic, high-level air vents, the tapering fascia panel, and the glossy black union of centre stack and transmission tunnel that all give the game away, where perhaps you'd hoped to see the E-Class's wider- and more expansive-looking fascia.
The lower fascia plastics lack the tactile material quality you'd expect of an E-Class, too, with just a hint of hard, reflective cheapness about them – although, as usual, Mercedes seeks to draw your attention away with its typical, top-level razzle-dazzle chrome and gloss carbonfibre. The overall ambience is rich enough, though it's not as widely or pervasively lavish and expensive-feeling as some may expect.
But then there's all of the car's digital technology to consider – among which is the new E-Class's third-generation, portrait-orientated MBUX infotainment system, which gets a more powerful processor, a simplified top-level menu system with bigger menu icons, and fully integrated and connected Android app-based compatibility with the likes of TikTok, Webex and Zoom (I didn't have a chance to test them all, but trust that the video conferencing apps work only when the car's parked). The revised home screen layout, meanwhile, offers a marked improvement on simplified usability.
So while E-Class Coupé owners might not find material quality levels commensurate with their old car in the CLE, they'll certainly find the digital technology on which Mercedes so squarely trades these days. Decent usable space too. Up front, elbow and head room feel fairly generous even for taller adults, and in the back, you'll need to be a smaller adult or child to be comfortable for any length of time – but even that is progress from where the decidedly pokey precious C-Class Coupé left off, and probably marginally beats the four-seat practicality of key rivals (Audi A5 Coupé, BMW 4-Series Coupé).