A property search platform that enables consumers to search for their perfect home by lifestyle options is also swiftly gaining support from real estate agencies and agents.
PropertyMate has made a bold entrance into the Australian real estate market with the official launch of its lifestyle-focused, AI-driven property platform, with co-founder Steven Abbott noting there are 320,000 properties annualised onsite now.
Industry created, owned and driven, PropertyMate uses the latest UX and UI design, including the popular 'swipe left, swipe right' functionality, that enables users to search for properties by lifestyle elements such as living near a beach, or parks. 
The more consumers swipe left (to ignore) or right (to love) to make their property choices, the more the platform learns about their preferences to serve them up their potential ideal home.
Mr Abbott said PropertyMate was a new way to house hunt that aimed to close the gap between what estate agents do and the end user search experience.
"I just felt that the status quo of postcodes, bedrooms, bathrooms, was almost limiting its audience," he said.
He said Australian's way of life was largely built around lifestyle options and enabling buyers to search in this manner matched with the way they lived or wanted to live.
"We've got a swiping algorithm that will build into AI in sales and rentals where, by interacting with the app, we learn the behaviour," Mr Abbott said.
"So for tenants, when you're trying to find something around the university for $600 a week, it's 'Can someone pushmarket to me and prompt me with things in a way I'm comfortable with things, as opposed to me trying to sift through everything'.
"Then we build a profile of you."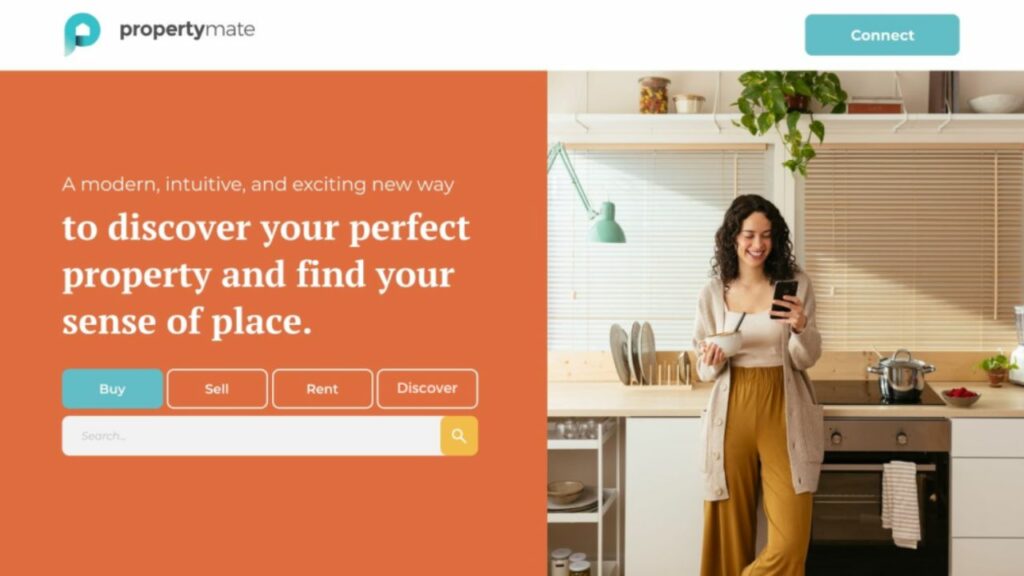 Mr Abbott, who founded PropertyMate alongside Steve Brendish, Matt Maasdijk and Campbell Sallabank, said numerous agencies were already onboard with the platform.
"What we were trying to do was build a vehicle to get to the table and that vehicle now has got 65 foundation brands, which represents 28 out of the top 30 companies in Australia," he said.
"They've all come on board as the founding shareholders, providing content, flow, collaboration and support via introductions to their networks etc… 
"Then we have what we call our industry participation scheme which is a further 20 per cent of the company available to the industry that would like to participate and support."
Mr Abbott said one of the key abilities PropertyMate has, through its connection with various brands and their databases and CRMs, is the ability to give the consumer the property as soon as it's listed.
"It's almost pre-market," he said.
"So we will seek to enable agencies with a platform that they can put pre-market, coming soon or off-market opportunities on.
"From a consumer point of view, if you're super active and highly engaged in the market then you want the listings first."
Mr Abbott said having pre-market opportunities available on the site was also appealing to vendors who weren't zeroed in on selling, but would do so if an agent had the right buyer already engaged.
"We are an on market platform and that's definitely got its place, but the art of being an estate agent and pre-market and off-market sales, we want to enable that in a really high value, cost effective way for everyone," he said.
Mr Abbott said the goal now was to get more agencies and agents to come onboard with the platform and to also build up its consumer marketing, starting with a spring campaign including billboards going up during grand final week along Punt Rd in Melbourne.
"We're really still at the B2B activation phase, which will then move us into early next year and into our revenue raising rounds and what our big, bold partner looks like," he said.
"Is it a bold partnership with another media company, or a data company?
"What we've got is extremely attractive and appealing to many.
"It could be insurance companies or, clearly, finance companies.
"Who's the right partner for the industry and why, I think is the next big question for PropertyMate."