The Rimac Nevera electric hypercar has set a new world record for the fastest speed achieved by a production car in reverse, reaching 170mph.
The run took place at the Automotive Testing Papenburg centre in Germany, which has two 4km straights and is often used for high-speed development by German manufacturers such as Mercedes-Benz and Volkswagen.
Rimac said this location was chosen because it was where the Nevera previously "had broken more than 20 acceleration and braking records in a single day". The oval-shaped track is also where the EV posted its 256mph run.
Matija Renić, chief engineer for the Nevera, spoke of the Croatian EV company entering "uncharted territory".
He said: "It occurred to us during development that Nevera would probably be the world's fastest car in reverse, but we kind of laughed it off. The aerodynamics, cooling and stability hadn't been engineered for travelling backwards at speed, after all. But then we started to talk about how fun it would be to give it a shot. Our simulations showed that we could achieve well over 150mph, but we didn't have much of an idea how stable it would be."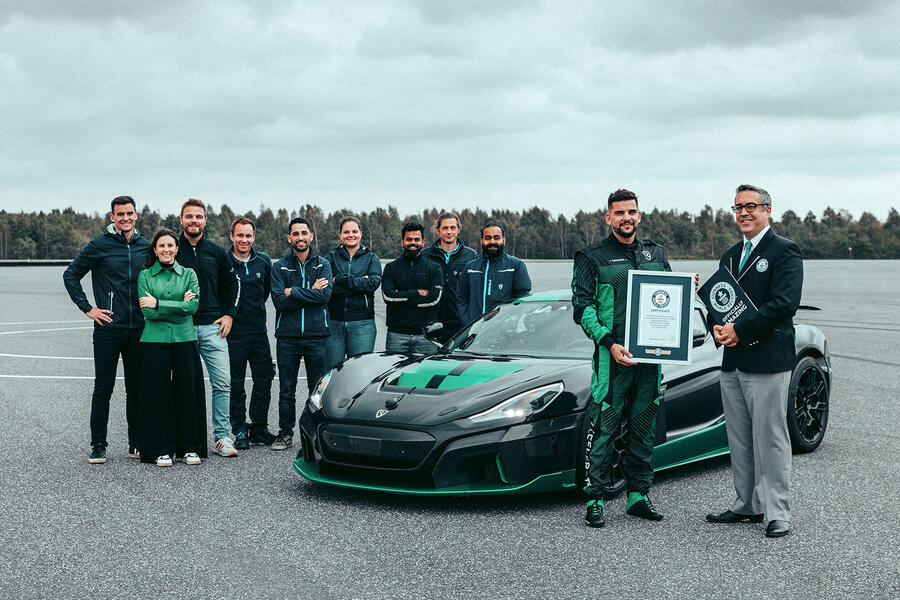 The record-breaking Nevera wore the same green-and-black Time Attack Edition livery as previous record-breakers, 12 of which are available for customers to buy.
Rimac test driver Goran Drndak, who took the Nevera on the record-setting reverse run, said: "You're facing straight out backwards watching the scenery flash away from you faster and faster, feeling your neck pulled forwards in almost the same sensation you would normally get under heavy braking."
He spoke of how demanding it was to manage each and every variable, from moving the steering wheel so gently as to not upset the car's balance to being mindful of his braking point and keeping keeping an eye on his speed.