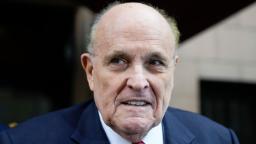 Rudy Giuliani has filed a new legal challenge against the criminal charges he's facing in Georgia over his attempts to subvert the 2020 presidential election.
The former Trump attorney on Friday asked Fulton County Superior Court Judge Scott McAfee to quash the indictment, or at least to set a hearing on the matter. Giuliani argued in the filing that there were "deficiencies" in the indictment that render it invalid, and that prosecutors are violating his rights against "double jeopardy" by how they structured the racketeering conspiracy allegations.
The indictment is "a conspiratorial bouillabaisse consisting of purported criminal acts, daily activities, and constitutionally protected speech," the filing argues.
Fulton County District Attorney Fani Willis charged Giuliani last month with 13 crimes, including violating the state's racketeering law (known as RICO), soliciting public officials to violate their oath of office, conspiring to commit forgery, and making false statements.
State prosecutors argue that Giuliani participated in a "criminal enterprise" by peddling false claims about voter fraud to state legislators and by orchestrating the fake electors scheme. He pleaded not guilty, as have the other 18 defendants in the sweeping case.
In the weeks since his indictment, Giuliani has railed against Willis, saying in a recent podcast that she is "so damn stupid" and "doesn't even know what the RICO statute is."
The former New York City mayor held a fundraiser Thursday to help with his growing legal bills. CNN previously reported that he owes millions of dollars in legal expenses.
Giuliani also is an unindicted co-conspirator in Trump's federal election subversion case. And he faces defamation suits from Dominion and Smartmatic, voting technology companies that he falsely said rigged the 2020 election. In a separate case, a judge ruled that he defamed two Georgia election workers, and a jury will decide what he owes damages.
The Georgia election workers who won a defamation lawsuit against Giuliani for his bogus fraud claims in the 2020 election say they are entitled to another $104,000 in attorneys' fees stemming from the discovery disputes that arose in the case.
It will be up to US District Judge Beryl Howell to approve the amount Giuliani must pay.
The ask would be in addition to the nearly $90,000 in sanctions the judge previously ordered for Giuliani in the case.
Last month, Howell determined that Giuliani had lost the lawsuit brought by Georgia election workers Ruby Freeman and Shaye Moss after he failed to provide information sought in subpoenas.
A trial to determine the amount of damages for which Giuliani will be held liable will be set for later this year or early 2024.