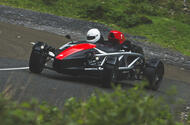 Low weight means big fun – but which of minimal mass track day entertainers makes our top 10?
When you really want to have fun behind the wheel, then you need to minimise the mass. Whether you're seeking straightline pace or after apex-acing dexterity, then the lighter the car the better. It's simple physics really – the less you have to move when accelerating, braking and turning, the faster and more faithful the car will be to your inputs.
Of course, shedding quite a few pounds means you (usually) have to sacrifice some creature comforts and forget about family-friendly practicality, but the upshot is unrivalled handling delicacy, tactile involvement and responsiveness, plus performance that orders of magnitude higher than the on paper power outputs would suggest. 
The very simplicity (although that doesn't mean unsophisticated) and single-minded approach of these machines is what really appeals, their commitment to dumping unnecessary extras in the pursuit of pure driving pleasure a refreshing tonic to the increasing complexity and avoir du pois of the current wave of crossovers and SUVs, not to mention battery-heavy EVs.
To qualify for this list our contenders have to tip the scales at under 1000kg (or thereabouts) and have a singular focus to engage and entertain. We're not interested in infotainment systems, leather trim or climate control, and if we're honest even basic weather protection isn't a prerequisite to entry. 
So, here's our top picks for brilliant, back-to-basics entertainers that keep their kerb weight to a minimum.
1. Ariel Atom 4

To the uninitiated, this fourth generation Atom looks much like the first, which is to say a cartoonish mash-up of children's climbing frame and a single seat racer. Yet while the brilliantly pared-back aesthetics are similar, as is the lazer-focus on stripping away anything that comes between the driver and a good time, this fourth generation road racer is the most advanced and exciting yet.
Handcrafted at Ariel's Crewkerne base down in Somerset, the tubular-framed Atom gained revised chassis, suspension, interior (well, seats and minimal dash) and engine when it launched in 2018. The latter is a Honda unit (as it has always been, made bespoke V8 versions aside), but this time it's the turbocharged 316bhp unit from the Civic Type-R. In the Jalapeno–hot hatch it delivers a knockout punch, so you can imagine how hard it hits in the Atom, which weighs a generous lunch under 600kg. Ariel claims 0-60mph in just 2.8 seconds, and if anything it feels even faster, the speed sensations enhanced by the sucking, whistling and rasp of that motor just behind your shoulder and the assault from the elements as you sit within that exposed exoskeleton (don't forget your helmet unless you want a face full of flies and stones). 
Yet it's the way the Atom assaults corners that really takes your breath away, the lack of inertia allowing the Ariel to dart into and out of corners with barely a whiff of slip, slide, rock or roll. It communicates so lucidly too, the unpowered steering keeping you keyed-in to the road, the mid-engined balance and razor sharp throttle giving options and entertainment in equal measure. It's a total immersion device and every trip leaves you exhilarated and happily exhausted.
You want more proof of the Atom 4's excellence? Well, it's one of only a handful of machines to take back-to-back wins in our annual Britain's Best Driver's Car shootout. Oh, and not forgetting its coveted five star road test verdict. Praise doesn't come much higher.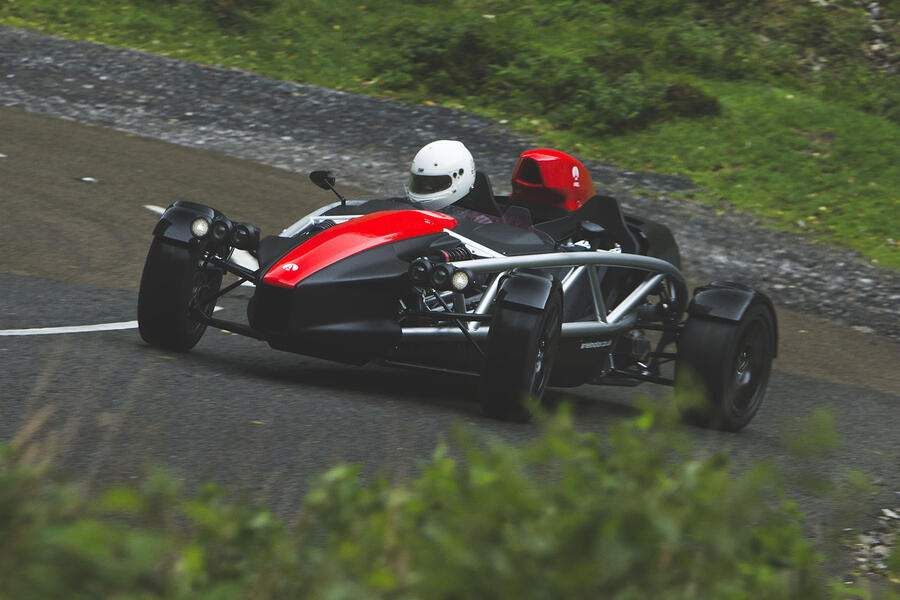 2. Caterham Seven 360R
There would very likely be no market for lightweight sports cars at all if not for the car whose bloodline flows into the indefatigable Caterham Seven. The original Lotus Seven might even have been Colin Chapman's greatest gift to the motoring world, and when Caterham Cars bought the rights to Chapman's little lightweight special from him in 1973, it founded a business that has been indulging and nurturing true diehard driving enthusiasts ever since.
Since the demise of the 1.6-litre Ford Sigma-engined 310R, the more muscular 360R is the Seven that's the sweetest spot in the line-up. Powered by the larger and more raucous 180 bhp 2.0-litre, it's a lightning quick and responsive performer, intake roar and exhaust bark adding to the heady sense of a near bottomless pit of on road performance.
Then there's that fabulously communicative steering that allows the driver to work the tiny but wonderfully direct and immersive chassis, the Seven changing direction with fruit fly fleetness and the beautifully calibrated controls letting you direct your angle of attack into and out of corners with millimetric precision. The S pack models have been tuned to the road, but the R's extra control and limited slip diff are worth the extra outlay, especially as there's no trade-off in everyday usability (and you should use your Seven everyday)
Of course there are more expensive, quicker versions of the Seven, plus the charming, skinny-tyred three-cylinder170 models. But when it comes to balancing thrills, involvement and affordability, there is arguably nothing that can match it.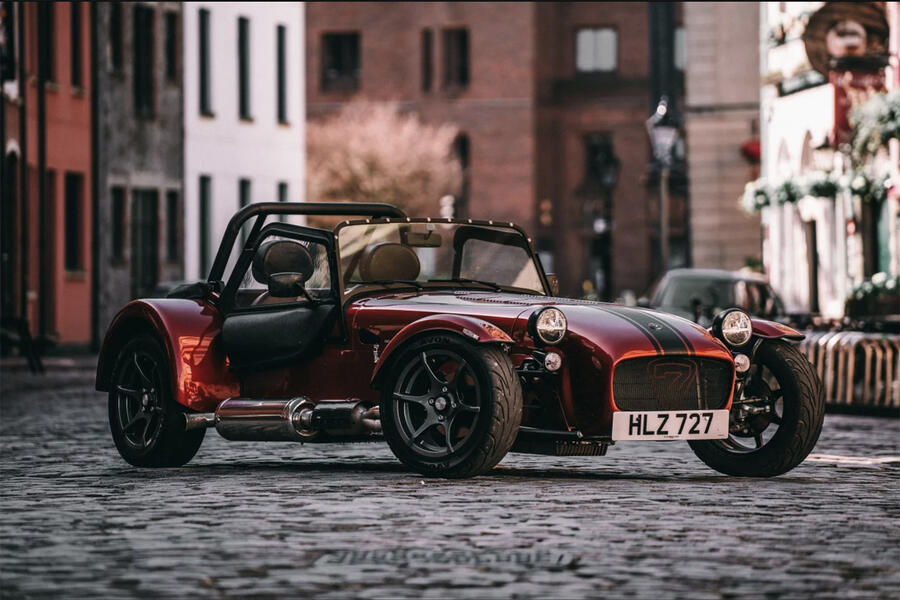 3. Spartan

Could this be the best Australian export since Neighbours, Fosters or even our very own Steve Cropley? The brainchild of single-minded brothers Nick and Peter Pap, the Spartan is a road legal track day weapon aimed at potential Ariel Atom and Radical customers. Beautifully wrought, perfectly set-up and uniquely thrilling, it's been one of the revelations of 2023 so far.
Under carbon fibre bodywork that takes its cues from Sixties Can Am racers, the Spartan features a bespoke spaceframe chassis, double wishbone suspension and a turbocharged 2.0-litre four-cylinder Honda engine mounted amidships. Here it delivers a heady 460bhp, which is a compact package weighing just 700kg results in sensational performance (how does 0-62mph in 2.3 seconds grab you?).  
We've only sampled the Spartan on track so far, but it was enough to confirm that this is a flyweight driver's tool of rare ability. Instinctive, balanced and approachable handling means you can place the car just-so through corners, while the steering is as chatty as a daytime TV host and there's genuine aero assistance to keep it swift and stable through fast sweeps.
It's a remarkable first effort (albeit one that's been 15 years in the making), and while £126,000 is a significant chunk of change, few cars offer as much adrenaline production per pound as this device from Down Under.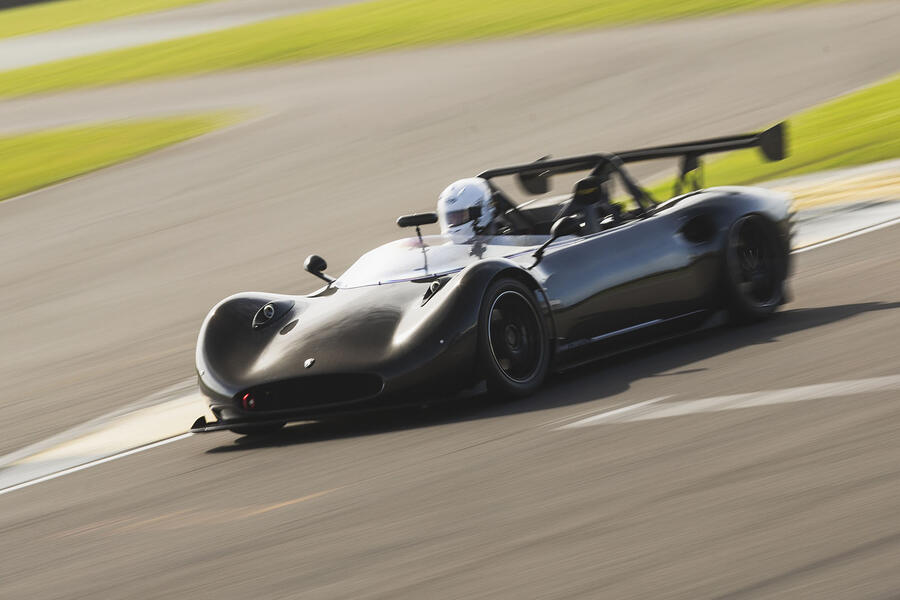 4. Morgan Super 3

Like all the most characterful machines, the Morgan Super 3 is something of a contradiction. You see, look past the quaint pseudo vintage car styling and you'll discover one of the most technically advanced and intriguing cars the Malvern manufacturer has created. Crucially, it's also a riot to drive, and like the best lightweights you don't have to be driving like you're fleeing an erupting volcano.
A clean sheet design, the Super 3 features a light and strong bonded aluminium chassis, plus bespoke double wishbone front suspension with springs and dampers actuated by an F1-style pullrod mechanism. The old car's V-twin motor has been dropped in favour of a naturally aspirated version of the Ford Fiesta ST's 1.5-litre three-pot motor which drives the single rear wheel through a Mazda MX-5 transmission.
Driving the Morgan is an experience unlike any other, its open cockpit and small aero screens giving you the feeling you're piloting a bi-plance rather than a car. It's at its best when driven within its limits on typically twisty British back roads, where you quickly get drawn into the sights, sounds and smells of a bygone motor era.
Yet there's genuine ability here, and provided you bear in mind the front end grip limitations of those skinny 135 section front tyres, the Morgan can be hustled hard and steering on the throttle is deliciously precise and progressive way. It goes well too, the rev-happy triple singing its way from 0-60mph in 7.2 seconds. 
This isn't a car to use everyday, and at over £40,000 in basic trim it's not cheap, but the exquisitely finished Super 3 will leave a smile on your face long after the ringing in your ears has stopped and you've picked all the flies from your teeth.
5. Ariel Nomad

How does a car with barely a trace of luxury or refinement in its DNA gain a five-star road-test rating? The answer, of course, is by purveying greater enjoyment than arguably anything else on four wheels, and by bringing something so fresh and different to its particular market that you simply can't ignore it – which is precisely what the Nomad, Ariel's dune-buggy-like second model line, achieved when it was introduced in 2014.
On road, track or – best of all – loose ground, the Nomad is sensational not only in its technical prowess but the manner in which it doles out its stonking performance. There's also incredible ride quality here to match amazing long-travel body control, and what little there is of the Nomad is beautifully constructed. 
For the money – and perhaps much, much more – there's nothing to touch it if your priority is pure driving pleasure delivered slightly differently.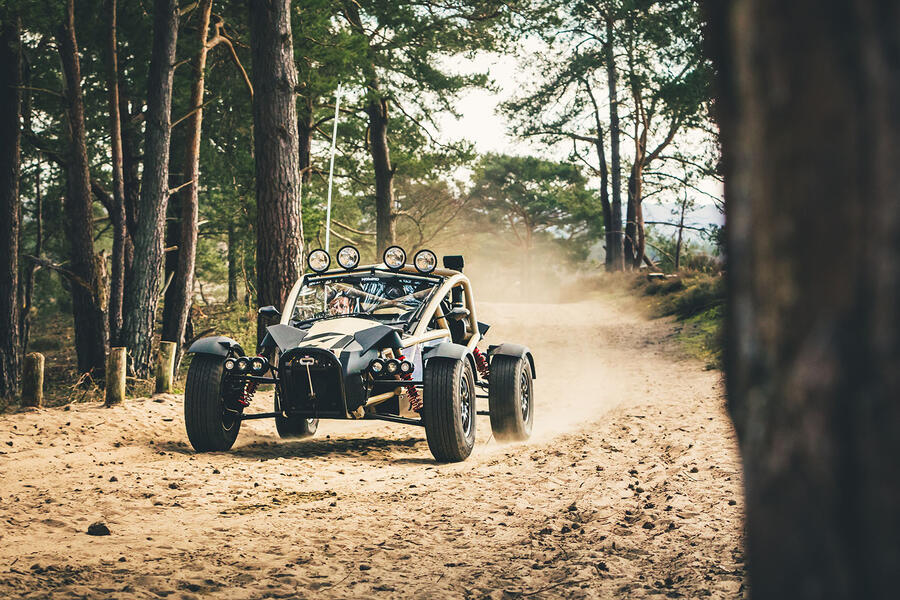 6. Wells Vertige

The history of motoring is littered with plucky British sports car start-ups that begin brightly before quickly sinking without a trace. Yet there's every indication that this fate is unlikely to befall Wells and its vivacious Vertige. 
Designed to deliver accessible performance and invigorating handling rather than record breaking acceleration runs and liver crushing cornering forces, the light and compact mid-engined machine is a delight to drive. Power comes from a tuned Ford 2.0-litre Duratec that delivers 208bhp, which in a car weighing just 850kg results in acceleration that's quick without being white-knuckled. 
Better still is the handling, with communicative unassisted steering and a supple suspension set-up that allows the poised and adjustable Veritge breathe with the road surface. And because there's so little mass, the Wells flows down the road in a lithe neatness and neutrality that brings to mind the much missed Lotus Elise.
Despite that size zero kerbweight, the Vertige has space for two in its comprehensively equipped and well built cabin, plus refinement and comfort surprisingly strong – this is a car you could happily daily or tackle a road trip. Wells plans to build around 25 units a year, and with a price between £40,000 and £50,000 it should have no problems finding takers.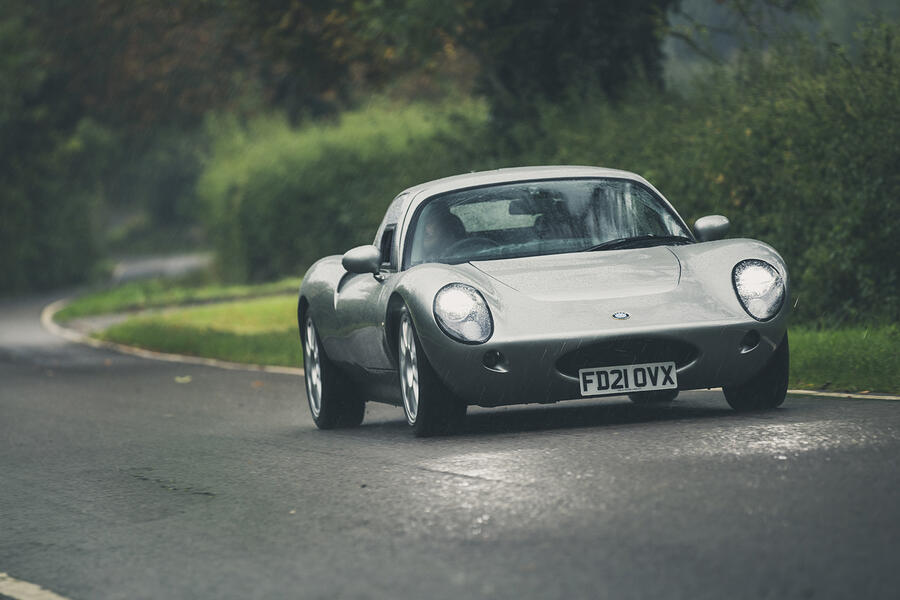 7. BAC Mono R
Really, who needs a passenger? Especially when you can have a car like the stunning BAC Mono R, which feels like it's been driven straight off a formula racing grid and offers a driving position that brings new meaning to the word 'pure', in a package that's somehow entirely road-legal.
Although the skeletal Mono R looks similar to its Mono predecessor, BAC bosses, the Briggs brothers, claim it's 90 percent new and even lighter at 555kg. Even so, the design philosophy is the same, with a tubular spaceframe 'safety cell' core that's covered in carbonfibre (graphene-enhanced, no less) panels with double wishbone suspension at each corner. However, the mid-mounted 2.5-litre Ford engine and a six-speed sequential gearbox driving the rear wheels remain, but with the drop in mass and 342bhp output the BAC delivers an outrageous 613bhp per ton.
We've not driven the R yet, but it's hard not to imagine it'll be even more intense than the Mono. That car's ability to cover ground at astonishing pace with such economy of movement truly is spellbinding, although the Mono is better still on the track, where its ultra-precise suspension can operate without hindrance from road imperfections. It's as intense an experience as they come. That said, it comes at a considerable price, the R costing nearly £200,000 before options Even so, the limited production run of 30 is reportedly already sold out.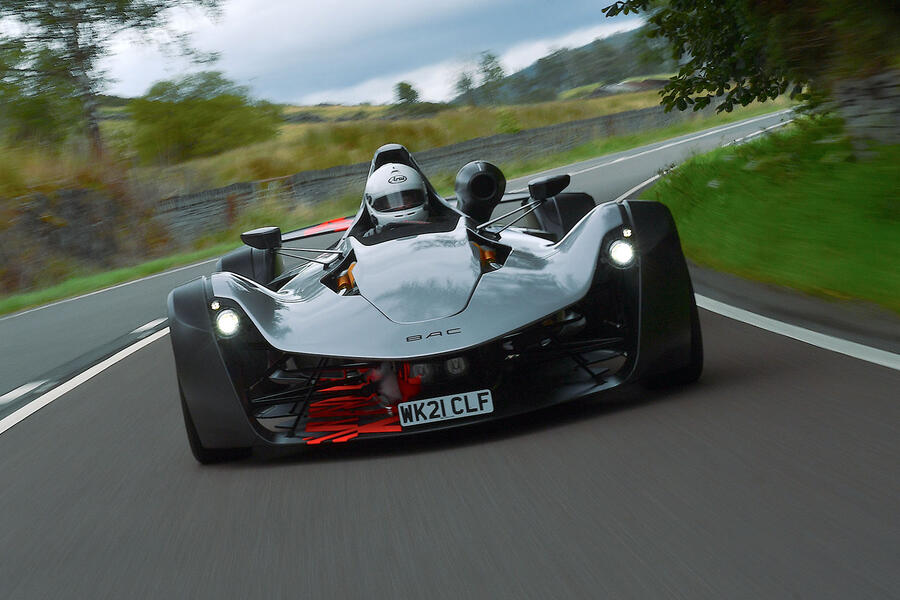 8. Dallara Stradale

If it is authenticity you crave, then names don't come more 'motorsport' than that of Italian outfit Dallara. The firm's chassis expertise can be found in Formula 1, IndyCar and Formula E as well as a host of other high-profile series, and it's that expertise that has been distilled into road-going form with the pretty Stradale.
What we're dealing with is a screenless barchetta with a 395bhp Ford (yes, again) 2.3-litre Ecoboost engine driving the rear wheels through a six-speed manual gearbox. Dry weight? 855kg. Maximum downforce? 810kg, with the huge rear wing in place. 
To drive, this is a ferociously serious machine and one with superlative unassisted steering and a chassis that's arrow-true – and one that can put you in a downforce-defined mode of full-immersion fever on track that few other cars can equal. The brakes could be better and the engine more stirring for the money, but the Stradale is brilliant nonetheless.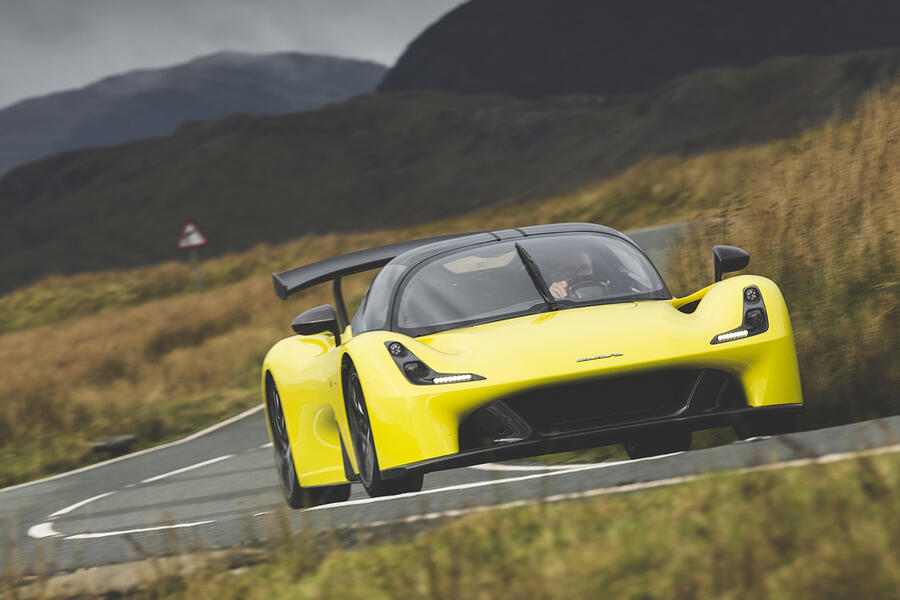 9. MK Indy RX-5

On the surface, the Indy MK looks like another Caterham facsimile in the (glassfibre) mould of a Westfield or Robin Hood. Yet the small British firm has gone its own way with the RX-5, which as its name alludes to uses a MK2 Mazda MX-5 donor for its running gear – making for some affordable and, likely, reliable weekend fun.
You can build the RX-5 yourself for as little as £8500 (plus a Mazda to cannabilise), but MK will also build you one for a shade under £19,000. Although simple, quality is excellent and the Indy looks and feels like a thoroughly well engineered product. It drive like one too, its quick steering, low mass and well-sorted suspension allowing it to dart through corners with the telepathic keenness of, well, a Caterham
The combination of around 130bhp and 600kg, the RX-5 is potent enough to rinse most hot hatches in a straight line, not to mention murder them in the corners. Yet those Mazda oily bits mean extra muscle is easily and reasonably cheaply easy to come buy, with Indy supplying a turbocharging upgrade that delivers 217bhp for around £4500. No it doesn't have the cache of a Caterham, but for the most laugh-out-loud fun for your cash then nothing hits the mark like the MK.
10. Mazda MX-5 1.5

On the face of it, the mass produced Mazda looks like the odd one out on this list, but with a kerbweight of just 1032kg it's close enough to our 1000kg target to make the grade here. And while it's the heaviest of our list, it's arguably the most remarkable – here's a car that's built in the thousands, is comfortable, easy to drive, packed with all the modern essentials and is available for less than £26,000. The more you think about it, the more you're in awe of the efforts of the engineers at Hiroshima.
Sure, to get the MX-5 with minimal mass you have to settle for the entry-level 1.5-litre, which lacks the greater muscle, beefier Bilstein suspension, stiffening strut brace and limited slip diff of the heavier 2.0-litre, but you're not missing as much as you'd think. For starters, the keen-revving motor makes you work for your rewards (no hardship given it means more opportunities to indulge in the car's snappily quick manual gearbox), while the softer suspension makes it easier to exploit the MX-5's delectable rear-wheel drive balance at sensible road speeds. This is unarguably a case of less most definitely meaning more.
Perhaps most impressive of all is that this is a car you could use everyday, mixing the mundane motoring experience with the marvellous. While so many in this list can only be brought out to play when the weather and roads are right, the Mazda fits into most lives with almost zero compromise. It hasn't become the world's best-selling roadster by accident.